Andy Hehnlin – On my recent trip to Alaska I meet this wonderful character.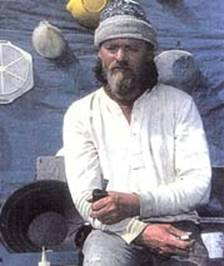 His name is Andy Hehnlin – and you can trust me on this – he really is a wonderful character. A little eccentric, highly intelligent and refreshingly outspoken. A long time Alaskan, a gold miner, a photographer, and the kind of person with a story or two to tell. One of which, I made the mistake of challenging one day.
We were eating lunch in the cook shack at Moore Creek when Andy made a statement about his painting ability. He also claimed to have thousands of hits on his name if you typed it in the Google Search engine. I had a hard time believing it., and before I knew it, the phrase "BS" made it's way out of my mouth. And boy, did it lit a fire under Andy – one I would quickly find he was justified in lighting. He explained to me, as only Andy can, just exactly how wrong I was. Then went on to give me facts to back up his statements. He rattled off numerous galleries that had his paintings on display, different shows that he had, and the many articles written about his unique method of painting.
I was taken by surprise at his strong defense. And his pride in his work thoroughly piqued my curiosity. So when I got back to Anchorage, I decided to investigate his claims. My first stop was at the Stephan Fine Arts Gallery in the lobby of Hotel Captain Cook. There, I meet Kristin Porter, and she shared with me some of Andy's paintings.
And as soon as I saw them, I knew I did not have to investigate any further.

His paintings were beyond description. They were so incredible that when my wife arrived in Anchorage a few days later, to join me in some Alaska and Yukon adventures, the first place I took her was to the Gallery. I had to let her see some of Andy's paintings. She, too, walked away with a new-found love for his work.
Andy is one of a very few people that uses the egg tempera method of painting. And he took it upon himself to delve into this challenging medium. Self-taught, he has produced colors that are robust, shadowing that is dramatic and life-like effects that make each his original works an amazing piece of art. Popular in Europe, this realistic method was developed during the renaissance and was used by Leonardo da Vinci, Michelangelo, and many others. Today there are less than 200 professional egg-tempera artists in the world; most of those are in Europe. Egg-tempera uses egg yolk mixed with distilled water and pigments to create a unique surface with beautiful optical properties.
After seeing some of his paintings it was easy to see how I lit Andy's fire in the cook shack that day. So if you're ever in Anchorage, I'd urge you to make it a point to stop at the Stephan Fine Arts Gallery and look for yourself. Oh – and Andy, please accept my apology for challenging your talent. I was out of line.
To see more of his art check these links. If you are lucky you will see some of my photos created as works of art in one of the galleries where Andy displays his paintings.
http://www.hehnlin.com/art.html This link also lists Galleries with Andy's originals for sale.
http://redoubtreporter.wordpress.com/2009/05/06/nikiski-artist-finds-colorful-niche-in-naturalistic-painting/ This link provides an in-depth interview with Andy.
A viewer writes - Friday 11/26/2010 - You're right on with my friend Andy. We've been mining together for the past 5 years. 5 years in Nome and 2010 in Moore Creek. I vaguely remember you and Andy swapping yarns in the cookhouse. Did you know he cooked with one of the world's finest chefs? He was one of the best chess players in the U.S.A.? I met him years ago in Girdwood, AK where I've lived permanently since 1972. He was my neighbor and used to borrow some of my mining books when he first got interested in gold mining and it was when he first took an interest on his way into the art world. He moved to Haines, AK for a while and began on his road to success in art and used to go to Nome with his sons and learned the art of beach mining. He then moved back to Big Lake, AK then to Knik, AK ( where my mother was the first Caucasian born in the Mat~Su Valley) when I started going to Nome with him. He taught me the fine art of fine gold beach mining that he got some help with from ol' "Bluebery", an artist in beach mining. Andy gave me the nick name of "Smokin' Joe" that is etched into the concrete at the Northern Commercial Co. store sidewalk in Nome.
I made calendars of our beach mining for several years and some of them can be seen at the Nome Museum. I also metal detect for artifacts and coins and like to explore the back country.
You have an interesting site that I'll be "exploring' and wish you well in your adventures. Smokin' Joe