Tolland Colorado Ghost Town
Photos Mike Sinnwell June 2004
You got to love these mountain towns. I stopped in Rollinsville to have a beer one afternoon. It was just me and the locals from Tolland sitting there in the old stage stop. We started to talk about the history in the area and this was the story they couldn't wait to tell me.
Hillary Clinton's famous train ride. Back when Bill Clinton was president he held the "Big 8" conference in Denver. No you dummy, not a basketball tournament. It was the meeting of the Big 8 leaders of the world. You know, Russia, USA etc.
Well anyway as part of the entertainment for the wives Billy scheduled a train ride in the mountains for them. It took the wives right past our houses in Tolland. We all got out our lawn chairs and set them up by the railroad tracks. We patiently sat there and passed the time drinking beer while we waited for the train with the ladies to arrive.
Sure enough here comes the train and it is slowing down as it approaches the tunnel. We could see Hillary Clinton about to wave at us. That was our signal, when she started to wave we all turned around and mooned her. Will everybody but my wife mooned her. The wives of the "Big 8" started laughing, pointing at us and cheering. Hillary turned away and wouldn't look out the window anymore.
Some people just can't take a joke.
A reader writes - My family owns one of the cabins in the Tolland pics you have (the last one up on the hill) and we have been friends with all in the community for many decades. It's nice to see my cabin on the web, but you'll have to update your pics because I just spent the last two weeks putting on all new siding!
A viewer writes - August 2009 - I am sending you a copy of an article written in the Denver Post about my great-aunt. As a young girl of 13 she was kidnapped in Grand Junction, Colorado and taken for almost 1 year to the mountain mining town of Tolland, Colorado. I never found the names of the couple who kidnapped her. Hope you find it interesting.
It happened in 1907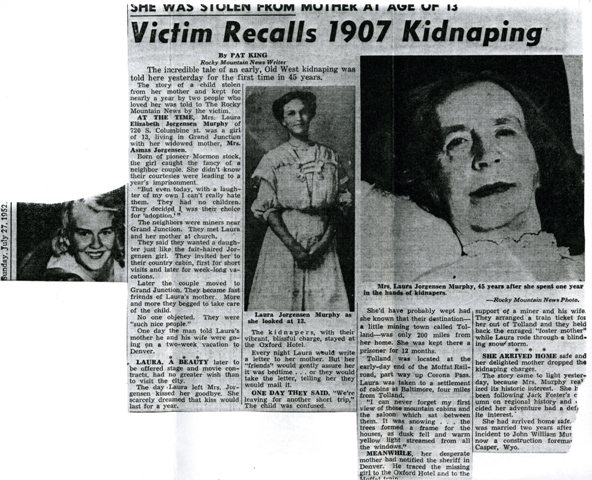 Contributed by Terry Woodward
A viewer writes Sunday, December 13, 2009 - I did a Google search for Tolland and besides all the municipal and commercial stuff in CT & MA, this site came up. Pretty funny about the moons setting on the Big 8 train trip. Looks like the town can use a little of that "stimulus" money. Rob Tolland, Sterling, MA
A viewer writes - Thursday, September 22, 2011 -- Wow, I can't believe I found this site! I was looking for a new desktop image, and I thought I'd Google "Tolland." I grew up in Tolland; my parents were the caretakers. We lived in the little house just down the hill from the schoolhouse. I have hundreds of fond memories of fishing, kite-flying, walking the dikes with my mother, camping, driving up Giant's Ladder, and of course battling the SNOW. Lovely photos and fascinating article about your great-aunt (oddly enough, as a young adult, I also lived in Grand Junction). Thanks for sharing! --Maggie Alvarez (Hunsaker, as a girl) allensmissus@yahoo.com
A viewer writes - Saturday, January 14, 2012 -- Tolland Co, I lived there from the time I was 5+ until I was 7 years old. I lived in one of the houses on the hillside in 1940/1941. My dad worked on the Denver & Rio Grand Railroad. My brother & I went to school in the old school house. The teacher was Mrs Nelson.
I also lived in Rollinsville for nearly 4 years, attending school there. So that part of the state is in my fond memories. We picnicked by Yankee Doodle Lake sometime between 1943 and 1946 when we lived in Rollinsville. The adults needed coffee so they made it over a campfire, boiled that coffee about half an hour or more and it was still cold. Water boils at a very low temp at altitude.
I started life along the D&RG railroad. Asier, Frazier, Tabernash, Yarmany (no longer there) Parshall, also no longer there, and many more. The mountains are in my blood. I have been stranded in the Eastern plains since I married in 1954. Growing up we spent a lot of time exploring. Never a dull moment in the mountains. Miss them. A flatlander now. Thanks for a great website.