Boyero Colorado Townsite - Ghost town
Photos Courtesy of Mike Sinnwell December 2008
This town was along the railroad tracks and was a victim of a move of the highway. Post Office was established in 1870 about the time the Railroad first came through. Some claim it got its name from the local stockyards. Spanish for bullpen or cowherds.
A viewer writes. Friday February 18th 2011 -- I saw a picture on your site of an old building in Boyero, CO (a ghost town) that looks like it might have been a store . Is there any way of finding our whether that might have been the J.J. Cullen Mercantile where my father worked between 1911 and 1917?
Rocky -- I just found a picture of the J.J. Cullen Mercantile in Boyero in an old box of pictures. The picture is attached. As you can see, it is obviously not the store you have a picture of that is still standing in Boyero. My father, Joseph C. Jones, worked in the store from about 1911 until the family moved to Kit Carson in 1917.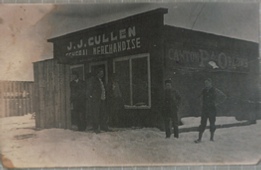 You said you were interested in pictures and stories about Boyero. I have stories my brothers told about living on the Homestead about 8 miles south of town, but the only story that mentioned Boyero was this one from my brother, Leo:
"On the fourth of July we would all go to town. The store was as fascinating as Disneyland is to kids today. There were ice cream cones, pop, candy, balloons, and firecrackers. There was a big celebration outside of town under the cottonwoods along the Big Sandy River. The river was dry most of the year, but you could dig through the sand with your hands and hit water every time. The cottonwoods were about the only kind of trees in the whole country. We used them to make bows and arrows and other things."
Thanks again for your help. Elaine Holder
A viewer writes - Sunday, January 08, 2012 -- Hi my name is Tim Davis I grew up in Boyero from the time I was born (1968) until I graduated HS (Hugo) my folks still live there I always go down most of your pictures were around my folks place but I'm always trying to find pictures of the earlier years of the buildings and more of the history have any ideas where I can find these thanks tdaviswelding87@gmail.com
Wednesday, August 05, 2015
WoW! AWESOME website! I accidentally found this site while searching for Boyero, CO. I found History Info & Photo's on Boyero, CO now a Ghost Town! Thank you! Steve Carlile, Rocky Ford, CO
More historical information on Boyero and several stories from John Davis
A viewer writes May 7th, 2018 - I am the eldest daughter of William and Anna Cullen and lived in Boyero from 1947 to 1965/66. My parents remained in the area until my father's death in 2004. My father's uncle owned the JJ Cullen mercantile. My sisters and I own some of the pictured buildings and grew up in some-- I want to make sure that this is where I would make comments and how to join the comment section on Boyero. I know some of the facts as they were presented to me.
Joanna Cullen - 206-329-8514 -jfoxcullen@gmail.com
A viewer writes an update on Boyero - Septmber 9th 2018 - The lager white stone type house next to a large barn was originally the livery stable. My grandfather, William Michael Cullen, bought the land from someone named Williams in the late 30s or early 40s, and then it was eventually owned by my father. My parents bought the smaller more modern looking home next door to what was the Davis home. And I believe that they bought it from the Davis family. My mother indicated that Brad Davis had lived there for a time before they bought it. If John Davis's mother spoke German to someone living next door, that person likely was my grandmother who came to live with us after my grandfather died. John's mother loved to crochet and my grandmother knitted or mended. They sometimes sat on the porch of the Davis home and visited while doing needle work. When I overheard them talking they spoke in English, but I know my grandmother also spoke some German. I just barely remember John Davis' father. I remember his mother well and his brother Brad. His sister Millie's daughter was around my age and that of my sisters. Her vistis to her grandmothe were always a welcome change from otherwise what seemed very long and isolating summers.
Tom and Elsie McClain lived in the stucco house with the green roof until he retired from the State Highway. The Randolph family then purchased it and lived there for many years; she served the Post Mistress and he worked on the railroad. For many years, the post offiec was one of the older and more distinguished looking wood buildings now collapsed. The little white building (not sure when it was placed there) served as post office for a time. After USPS closed it, Bette Kay Emmerling (nee Davis, but different family from the John Davis who has posted on the site) opened an antique/gift type shop for a time.
Two of my sisters and I attended Boyero School until it was consolidated into the Hugo Schools as I entered 6th grade. My sister Mary attended school only in Hugo
Joanna Cullen - jfoxcullen@gmail.com