Gilman Colorado Townsite - Ghost town For photos of Gilman in 2017 go here.
NOTE - This is a No trespassing area for good reasons. Fairly toxic area. Photos were taken from the road.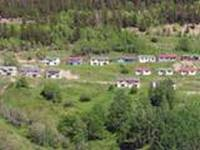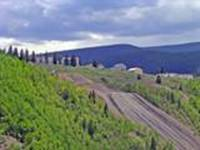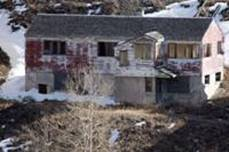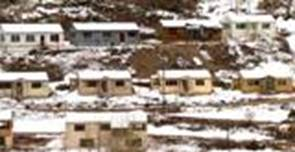 Photos Courtesy of Ryan Sullivan-Elkins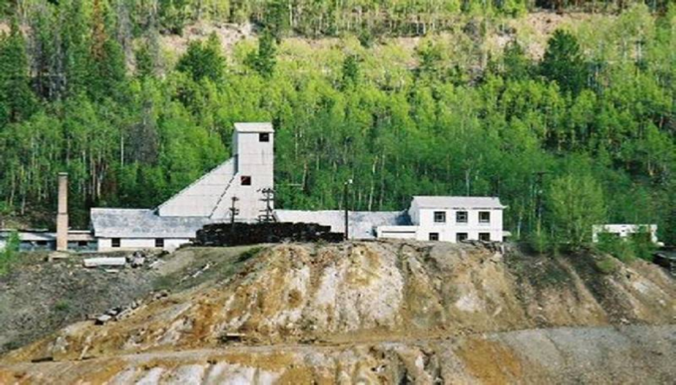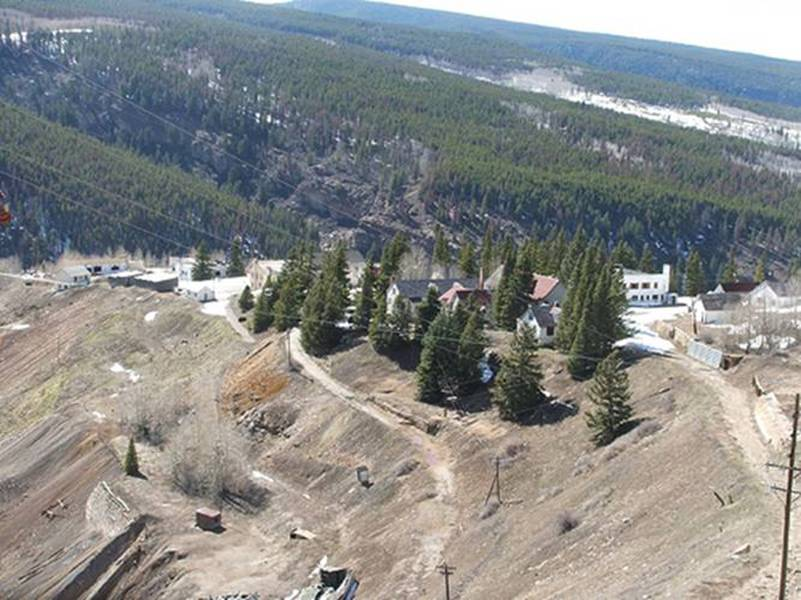 Gilman sits on the side of a mountain, Battle Mountain. The Eagle river is about 1,200 feet below. Workers commuted up and down the 1,200 feet via railroad to get to work. Originally Rock Creek, then Battle Mountain then Clinton and finally Gilman in 1886. Because of the diversity of minerals, Silver, Gold, Zinc and Copper, this area was mined for over a century. In the early 1950s they were still shipping as much as $12 Million dollars worth of ore from this area. In 1985 the remaining residents were asked to leave due to an inadequate water supply.
A viewer writes - July 2005 - Rocky, You have a real nice web site here, stumbled across your post on Nuggetshooter.comForum. I was born and raised in one of Colorado`s newest ghost towns. Gilman, Colorado, the town sits right on top of the old Eagle mine. My father started working there in 1938 and was Mine Manager when the mine closed for good back in the 80s. The town is a total ghost town now and is located between Minturn and Redcliff. Next trip back to Minturn, I plan to do some detecting in a few of the placer locations up Homestake creek, on the Holy Cross side of the Mts. My brother who lives in Redcliff has several mine dumps picked out that contain horn silver and gold, going to run my Minelab 3000 over them. Add Gilman to your Ghost town list, it is much more a ghost town than Leadville. Jim - Kingman, Arizona
A viewer writes - Enjoyed viewing the pictures you have of Gilman. These kind of pictures always bring memories to me. I am sure if I went into the town I could hear the sounds of the town the whistle that blew at noon, so you better high tail it home becauses that was your timer your mom gave you.. "you be home when the whistle blows" Or worse yet something horrible happen in the mine. So you would stand still in your tracks and pray it wasn't your daddy or cry when it was your friends daddy. you said you didn't take any pictures other then what you could take from the road. I plan on trying to go in the town maybe in May, I don't want pictures of the rubble I want pictures of the scenery, I want to go turn my rock over and see if my necklace is still there. :) Thanks for the memories
A viewer write 8/2008 - Great Colorado site! Its too bad most of you out there haven't seen the ghost town of Gilman. It is now patrolled by security dudes for the proposed ski area considering being built there by Ginn Corporation out of Florida. There are buildings and ruins dating back to the 1870s. With some more modern homes and building that were abandoned about 1983 due to hazardous materials in ground water. We'll see if this corporation really spends the millions of dollars it will take to clean up the entire area before devolvement takes place. The best ghost town for me EVER! Contact me at dsblair@gmail.com for more info! Thanks!
A viewer writes - February 28, 2009 - Hi! I just wanted to say how much I enjoyed browsing your website and reading about Gilman. I lived there from 1972 through about 1979. My son was born while I lived there (at the hospital in Glenwood Springs) and he went to school in Redcliff. My sister hitchhiked to Colorado from Philadelphia when my son was born and ended up working in the mill. My former husband, my former brothers-in-law, worked in the mines (mill, actually). We had some interesting experiences up there - including rolling my car off the side of the mountain between Redcliff and Gilman early one winter. We did a lot of snowshoeing, tubing, and a whole lot of fishing both at Bolts Lake (at the bottom of the hill heading toward Minturn) and at Camp Hale (heading toward Leadville). I worked for a short time for the Climax Mine offices in Leadville, and for a title insurance company in Vail before I headed back to California (where I grew up). Ah, the good old days! thanks for the info and pictures! - Pam
An update from Pam --- I am going to e-mail this also to my sister, Kathy, who actually worked underground in Gilman. She knows and remembers quite a bit that I don't. I was the stay-at-home mom for most of my time there and she was the one who worked with the guys. In fact, in some previous info about Gilman there was a photograph of a board (chalk board or white board, I can't remember) that someone had photographed that showed her name written on it - I have tried to find that picture again and haven't been able to find it. It's just nice to know someone remembers Gilman! - Pam
A viewer writes - June 26th 2009 - I worked at Gilman as a mining engineer from 1943-1950. Three of our children were born in the hospital and one died there. We enjoyed the t bar lift at Cooperhill. The high altitude affected my wife and the co transferred us to PA. We loved Colorado and the friends we made at Gilman. Mayo Lanning cooperbird@juno.com
A viewer writes - July 2009 - Rocky, I was born in Gilman as was my brother (1950 and '51 respectively). My dad was a miner and owned the bus company in Red Cliff. He was killed in a mining accident in 1956. I have some ore samples and core drillings from the mine. Thanks for the pictures. Rich
A viewer writes August 2009 - I was reading the comments and noted that "Rick" said his dad who lived in Red Cliff and opersted a bus company was killed in the Gilman Mine in 1956. I remember this accident as I was the mine foreman. It was Dick Lucero and happened much earlier in the late 1940's as I left Gilman in October, 1950. He was taking empty cars from an incline to the 1800 level and somehow got caught in the operation. No one else was around. He was a valuable employee and his bus transportation was much appreciated by the miners who lived in Red Cliff. Mayo Lanning cooperbird@juno.come
A viewer writes Friday, December 18, 2009 - Well this was fun to read. My family moved to Gilman in 1953 & lived there until 1956. My name is Lois Trout. My step dad was Doc Hess. I have been trying to get in touch with some classmates maybe this will help. My mom was saying just last week a man had been killed in the mine while we were there. I had forgotten, but I remember Dick Lucero he was a friend of my dads. Living in Gilman as a teen was a very special experience. There is a wonder room at the mining museum in Leadville called the Gilman room. cotrout1942@comcast.net
A viewer writes - Sunday, April 11, 2010 -- My grandparents lived in Gilman when I was growing up (1960's) My grandfather worked at the mine and later taught 6th grade in Minturn. My grandmother taught 2nd grade in Redcliff, Gilman and Minturn. We used to visit Gilman regularly in the winter. I remember the deep snow and the huge icicles that used to form on the buildings there.
A viewer writes - Tuesday, March 30, 2010 -- Hi i lived in Gilman from 1974 till 1979 two of my children where born in Leadville and stayed there till 1981. I did lose all contact with my kids and their mother from 1979 until Aug 14th 2009. Now I'm back with my kids and was by Gilman and was sad to see it that way, but still have a lot of very good memories of there.
A viewer writes - Monday, June 07, 2010 - I would love to correspond with those of you that remember the area. I am
interested in the buildings trackside to the Rio Grande tracks. If any of you would like to correspond with me, it would be much appreciated. rio_rules54@yahoo.com
A viewer writes - Friday, June 25, 2010 - My dad is Paul J Mills (PJ). He was a mining engineer at the mine from 1948-1957 I think. Remember Murphy store, kindergarden teacher mrs cryann(SP), the Gautiers-teachers, bruce and scott nelson and their parents, jack skinner and his son, the mays, wilbur moran, the Liguoris, and others. Had place in beaver creek till a few years ago. Went to Minturn a lot and Leadville where I was born. Went to church at St Patricks in Minturn. Born (in the old St Vincents) and baptized in Leadville. My mom was an RN (Eleanor Mills) and dispensed medicines to the sick at all hours. Closest thing to a doctor in Gilman, I guess. My name is Ken Mills and my brothers were Johnny and Tommy. Anybody remember us, we were always in trouble- innocent fun. I am at tnrainmaker@aol.com
A viewer writes - Tuesday, July 06, 2010 - Hi Rocky Love your website I grew up in Gilman my family was one of the last family's to move It was great place to grow up we played hiding go seek in the abandoned houses there. I went to Red cliff elementary and then to Minturn Middle school. My dad Tony Romero was one of the last miners to work there.
A viewer writes - Thursday, July 08, 2010 - Hey Rocky! Thanks for all the interesting feedback on GILMAN Colorado. Lots of interesting stories from people who lived there. There was an article today in our local paper (The Vail daily) that says that they may be building on the townsite of Gilman soon. A much scaled back plan that doesn't include a golf course, etc. We will see! I would like for them to leave the area alone so I can go back and explore again! The best ghost town I have EVER explored! dsblair@gmail.com
A viewer writes - Friday, November 12, 2010 - Fantastic site. Pictures of Gilman...My dad worked @ Climax up in Leadville (we lived in Buena Vista), but had friends that worked up in Gilman back in the late 70's/early 80's..I remember going to visit them in Gilman, and bowling @ the bowling alley there. I also remember going snowmobiling w/friends that were from Gilman. The pictures of Gilman sadden me (the vandalism is awful). It was such a cool little town. Some cool memories. Thank you for the web site. R/S-Mark S./Scottsdale, AZ.
A viewer writes - Tuesday, January 04, 2011 -- According to the obit for my great grandmother Mary Jane (Harper) Simpson, who was born in 1876, she moved to Gilman at a young age and went to school there before she married in 1890 (in Aspen) and then moved to Minturn. But I hear that much of the town (Gilman) she lived in burned in 1899. I have never been to Colorado, but the recent release of True Grit reminded me of my grandfather who grew up in Minturn and loved western novels, movies and TV shows, and makes me want to explore his stomping grounds.
A Viewer writes - Monday, January 10, 2011 -- I lived in Leadville CO in the late 90's. My friends and I were fascinated by the abandoned town of Gilman. We took a walk around the area. There was so much stuff still there, all sorts of medical files, X Rays. They left all there paperwork there when the left. We saw bowling lanes amongst other things. The large building basement was to way to creepy to go into. At that time the houses still had bathroom fixtures and kitchen cabinets. We had a great time looking around at all the old stuff and trying very hard not to get too creeped out! Jen Fairbanks Alaska
A viewer writes - Saturday January 22, 2011 -- My name is David Clark an I live on Prince Edward Island, Canada, in early times Farm familes were quite large and many children went elsewhere in search for opportunities. My Lefurgey family had several men going to Colorado and elsewhere in the great West. I thought I would send you a copy of the following letter as it would contain information relative to the establishment of Gillman.
The Exchange Mining Company
Gilman, Colorado.
J.L. Campbell , Manager and Treasurer
O.B. Lefurgey , Superintendent
Directors: David Conners , W. P. Dewey , Philip Urban , J. W. McKinley
Osborne B. Lefurgey's letter written to Dorothea Reid wife of John Lefurgey , Summerside, P.E.I. on Company Letterhead , Gilman , Colorado ,
July 22 1893
My Dear Aunt
Your welcome letter at hand and was pleased to hear from you and cannot express to you my feelings of sorrow when I received the words announcing the death of your darling boy, but we must try to remember that GOD is good and just and that your boy has gone to a good and glorious home there at some future time to await our coming.
And now Aunt since you have written me intending writing you some time ago in regard to business between Will and myself. I will only be too happy to arrange with you. was sorry I did not meet Will at the point the time of my return here the train was not in on our arrival and I took the stage to Hotel for dinner thinking I would meet him there but instead missed him altogether.
Now the understanding between Will and myself was , I was to go to this new mining camp Nolan then but now named Fulford's Mining Camp
Will was to bear one half of the expences and I have one half of what I located and staked . I think in all he put in the property three hundred and twenty five dollars. I located eight mining claims they are surveyed and recorded in the recorders ofice at Red Cliff Eagle Co Colo. Since that time I have expendes fifteen Hundred for assements and improvement on the property the law here compells us to expend one hundred dollars on each mining claim each year in order to hold it, This this is beyond a doubt valuable project and I ----in the next few years to make quite a large sale of this property
Poor Will is dead he treated me wright and I will try to do the same in return the way it stands now Will or the estate woild owe me Seven Hundred and fifty Dollars he then would still retain his interest in the claims the three twenty five he put in the property went to pay his part of the assesment for first year I also advanced the same amount besides other expences . in regard to my giving him my note for any money we was talking some going into business at - trinor - but we never started the business we were talking the matter over he may have gotten down on his luck some items as was how it was to be but did not carry it through neither was there any money advanced
Now Aunt if you do not wish to retain Wills interest in property I will keep it my - self and when I can make a sale will give you back the money Will had expended on the property but at present owing to the low price of silver and the scarce of money in the market we can hardly raise money to pay our men and we cannot tell how long it will last we are in hopes this congress willpass a free silver bill. many of the mines here and infact all over the Stte are closed down, I expect to be home to see you all in September if i can possibly get away and can explain to you more fully ------ how the property is situated. but in the mean time would be pleased to hear from you if you decide to retain Wills intrest- will send you deed to some
I made small scale of some property in this camp some time since but it was property in the ( Quartigs ) ?? I bought into after Wills return East. Well Aunt this is a ling letter and expect you are tired reading so will close
Please give my kind wishes to all Mother and Father not forgetting yourself.
I am as ever your nephew
Ob Lefurgey
Gilman
Colo
A viewer writes -- Monday, February 14, 2011 --- I had a summer job working underground at Gilman, CO the summer of 1977. I must say it was one of the most interesting jobs I've every had. Walking down the drift (tunnel) with 80 sticks of dynamite under my arm, blowing stuff up after screaming fire in the hole all up and down the stope (the place where the ore is dug out of, a pretty interesting 3 dimensional lattice work of 8 by 8 timbers). One time they showed us how to escape from the mine in the event of the lift failing (600 feet down), out the side of the mountain. We ended up touring some of the old mine workings, imagining a bunch of little Chinese kids on ladders up inside these cracks leading of the main seam of lead/zinc, long since mined out. There wasn't much ore left when I worked there, they had an exploratory shaft going off to look for another mother lode, but don't think they ever found anything. I don't think that operation kept going much longer than a year after I worked there. I do remember getting $5 per roof bolt of bonus money. A lot of money for a 19-year old kid.
Glenn Decker
A viewer writes - Thursday, February 17, 2011 -- In recent years, Gilman has been patrolled several times a day. It is also posted. The person patrolling the site is not the least bit afraid to call the sheriff. The best advise is to stay on the public road and photograph this ghost towns from the turnouts. Belden, along the river, was the loading point for ore to be shipped to a smelter. This site is inaccessible. Ken Jessen, Loveland, Colorado
A viewer writes - Thursday, February 17, 2011 -- I worked for New Jersey Zinc in Gilman the summer of 1967. I lived in the staff house and took lunch down in the mine. bought my helmet and boots at the company store. There was a nice little neighborhood down some streets. It was a little company town at the time.
A viewer writes - Saturday, February 19, 2011 -- Hi: - I just noted that "Pam" said she rolled her call of the road going from Gilman to Redcliff. (Message 2/28/09). I would like to know how she survived. I saw this happen to another individual back in the forties. It was not a pretty sight. I always kept on the inside of every curve on that mountain road. Mayo Lanning
A viewer writes - Monday, March 28, 2011 -- WE LIVED IN MINTURN MID 30's TIL THE END OF WWII, MY DAD OREN APPLEGARTH WAS AN ELECTRICIAN AT THE MINE. I WAS BORN IN GILMAN IN 1939, DAD PLAYED BASEBALL WITH THE BATTLE MOUNTAIN MINERS IN 1936-1939.
A viewer writes - Thursday, May 19, 2011 -- I also lived in Gilman Colorado. My sister was born there in the late fifties. I took my parents back for a visit quite a few years ago. Oh the memories what a beautiful place to grow up in. We moved to Paonia Colorado in the mid sixties. I also remember the bowling alley and my mom worked in the store. I wish they would put in a museum there or make it safe to visit as I would love to take my children and grandchildren there to visit.
A viewer writes - Friday, May 20, 2011-- Hello, I lived in Gilman also and moved to AZ in 1968/69, twenty to twenty-five kids per class if you were lucky, I remember Mrs. Cryan as the kindergarten and 3rd grade teacher. Poor woman had put up with all four of us. Fond memories my Dad was the town Plumber Les Asbury. Anyway I'm very curious to find out more information about the town and particularly the SCHOOL Bell, I'm sure it was worth a lot it probably saw 100 years of use for sure, just wonder what museum it probably ended up in, do you know? If you know any where I can look up more information please email me would like to hear from you, it is very hard now to remember names of kids I went to school with but I will look for a picture of us in first grade in 1965 so people can see me and some others they might recognize. I am also going to post this on the website, and see if anyone remembers me, flicker had some really good pictures of the town you should check out they even had pictures of the bowling alley it also was used for bible school in the summer! And there is a picture of the x-mas star they used to mount on top of the garages. I remember the teeter totter oh so well like it was yesterday, it was a very tall slide and it did get hot because it was metal. Sandra (Sandi) Asbury (Asbury was my maiden name) Fort Collins, CO
A viewer writes - Wednesday, July 20, 2011-- I lived in Gilman from 1952 to 1956; my dad was Staff Geologist. Had Mrs. Cryan for kindergarten my last year there -- and I have the class picture to prove it! It was a great place to be a kid. My brother was born there in 1953. So many memories -- walking down the hill to meet my dad and walk home with him, playing in the woods, playing on the tailings piles (my sister and I joke that we still glow in the dark), walking down the street with my eyes closed (hey, I was 4 years old) and falling off the rock wall (fortunately I landed in a sandbox), going down to the Rod 'n Gun in Minturn for picnics, getting 57 splinters in my hand from the teeter-totter. We lived next door to the Phillips; the Jim and Fee Brown (and their sons Doug and Lyle) lived one house away. Mrs. Cryan lived at the far end of the street and the Webbs lived above us (Donna Webb and I have kept in touch for 59 years). Von Bristow was the school superintendent. If you'd like to share memories, my name then was Randi Westphal (now Gallivan), mjgallivan@gmail.com.
A viewer writes - Thursday, July 21, 2011 -- My name is Arnold Madrid, I live in mammoth az now. but i lived in Gilman in 64 to 71. the town was so nice to live in. the people were very nice too. memories: the sled riding down the mine road, the climbing of the stairs during the winter, the school slide, mrs crayon the school teacher, the long slide and the teetertotter that was there, im wondering what happen to the school bell? the lil store up town was ran by mr Murphy, i still remember our box number #46. the lil clinic was awesome now that i think of the place. We would go play at the timbers, Anthony Valdez and i were best friends, back in the days. during the summers, wow, never had a dull moment there. There was bible group that would come down, we would go sing songs, fishing there was awesome, every Fridays and Saturdays, if you drove down the mine road, the first house there was white and green trimming, thats where i lived. we all caught the bus in front of the mine parking lot. mr Abrams was the bus driver, and mr Sandoval from red cliff. from the house we lived in ,then we moved to the last street, the first house there, the Riviera's lived there, i remember the watchman there, mr jinkins i believe,his lil round glasses and his beard, i was always afraid of him, i dont no why, but i was. my dad was a miner there at the mines. amadeo madrid was his name, they called him nickname (horse). i remember the story of the guy that got buried by the snow that collapsed on him. my brother Steve knew him. my email is z_iggy61@hotmail.com and my phone number is 520-487-2212, id like to hear from people that lived there also. we thank u rocky for this page also.
Rocky says - You are welcome Arnold.
A viewer writes Monday September 5, 2011 - I was born at the Gilman hospital in 1937. My folks lived in Red Cliff at the time and a year later moved to Minturn, where I grew up. I returned to the Gilman hospital during grade school, with strep-throat.--While living in Minturn I pin set at the Gilman bowling alley for a group from Minturn.--After high school graduation I got a job at the mine('55), starting on the bull gang, and then I got a chance to go to the milling section---the job was one of my very favorites. Some times when ore concentrate was low--we ran the the crusher, for a while>>>a job I was already familiar with from my days on the bull gang===Hope to hear from you==Thanks
A viewer writes - Sunday, September 25, 2011 -- Wow, I remember Gilman. My dad, worked at the mine for 27 years. We lived in Minturn but a lot of my friends lived in Gilman. I remember the ride up Battle Mountain. We drove through there about fifteen years ago and I still got car sick. I remember old Dr. Stanley, he set my arm when I broke it in first grade. His nurse gave me all my shots, I think she was Mrs. Burnett. We also shopped at Murphey's, remember that huge walk-in fridge. I used to love going in there to get milk and eggs. When I was little I was so afraid of visiting friends in Gilman because I was afraid of falling off the side of the mountain. That whole area, including Minturn is becoming one big extension of Vail. Being a Hispanic kid, non-skier, and fluent Spanish speaker, the only memories I have of Vail and the Vail kids is of them making fun of us so please forgive me if I'm not too thrilled about seeing another bit of my happy childhood obliterated by Vailization.
A viewer writes - Sunday, September 25, 2011 -- Loved reading the comments of those with connections to the Gilman, CO mine community. I'm currently working at Camp Hale and drive by the area daily. Being from FL. (and not seeing things like this) all the mining history just fascinates me. I understand that the Belden Mine was shut down in the 80's by the EPA. Do you know who currently owns all of the property? I just think it would be so neat if the area could be "safe" enough for a tour company to run people down there to take photographs and learn the history of the area. I'd be the first one on the tour!
A viewer writes - Saturday 10/1/2011 -- I lived in Gilman 1968-1974. I lived in the staff house or as I knew it the teacherage. I taught at Battle Mountain High School. Mrs. Jenkins was the post mistress, my mail box was 77. I worked in the bakery that took over the store for awhile it was run by Andre and Josephine Delsinges. Josephine taught at the high school also. Beth and Roger Smith were my neighbors. Other teachers living in Gilman then were the Jarnots and the Beckers. The school secretary Mar Jane and I car pooled for a couple of years and had several interesting trips down the mountain. -- Floyd Straily
A viewer writes - Saturday 11/5/2011 - Lived in Gilman from 1959 to 1977. I remember some of you that made comments. I remember when they tore down the schoolhouse. Worked in the mine the summer after I graduated from high school in 1977. The walls were full of old newspapers from around ww1. My brother and I gave a bunch of them to the Librarian at Battle Mountain High School.
A viewer writes - Tuesday, November 29, 2011 -- This brings back a lot of good memories of Gilman and there was no better place to grow up at. Always go there in thoughts when thinking of being a kid. My dad Glenn Wise was a schoolteacher at the school in Minturn and live there until 1975 when we moved away. Love to share memories Randy Wise rwise777@hotmail.com
A viewer writes -- Friday, January 06, 2012 -- I was born in Gilman Colorado in 1952, but raised in Red Cliff. Worked in the Mine from 1969-1975 during the summer and winter breaks from college. I am now a retired teacher. I have great memories of fun, hard winters, and hard work. I still go by there often. I still have family in Red Cliff and Leadville. My dad was a miner for 25 years. My brothers also worked there. It was great growing up there. I attended Battle Mountain High School in Minturn, graduated in 1970. The mine provided me with the financial means to go to school. They were really good to me, allowing me to work during my vacations. Although it wasn't what I really wanted to do during my time off from school, but my goal was more important, so underground I went. I learned a lot and worked with many hard working individuals. Some whom I never learned their real name because the majority had nick names. I was trained to do many jobs. I was a miner, cager, topper, motorman, on The Main Line to the mill and in all levels. I had my scary moments, but the experience was something I will never forget. I had the worst jobs to the best jobs, worked in the heat and in the cold. The people in RedCliff and Gilman was one big family. Many are gone and have moved on. But the memories are still there. It is strange to go by Gilman, my birthplace, and now see it as a Ghost town, silent, on the side of the mountain, but for anyone that worked underground still has the memories of the trains loaded with the ore mined by the sweat of the many men who made that place come alive, the yelling of; !!! fire in the hole!!!, the old phones ringing, the hoist running, the jack hammers and jack legs working away, making a living for the miner and his family, the blasting and the smell of dynamite, yet there were times of silence and pitch darkness, taking a break, laying down on a lagen (board), asking myself, What am I doing here? But then, quickly, I remind myself, My Education!! I can still close my eyes and relive my time underground and always thanked God each day for keeping me safe. I could go on and on, but I will stop here. R Sandoval rsandoval52@yahoo.com
A viewer writes - Saturday January 1/14/2012 -- Greetings, My dad, Tom O'Neill, was a geologist for New Jersey Zinc in Gilman from about 1948 to mid-1950 until he was transferred to Spokane, WA. Does anyone remember him? I have photos of my parents at the Rod and Gun club but have never been there.
My birth certificate says Gilman though I think the hospital was in Leadville. I was born in Gilman in 1950 but have no memories of it. We still have his mining helmet with the light on the front.
It's wonderful hearing everyone's stories about life in Gilman. My mom kept her High Altitude Cookbook for years.
I have a very nice black and white Photo of Gilman looking across a valley towards the town and mine. It was taken by Si Ostermeier probably around 1950. I was just a baby when we moved from Gilman in 1950, so don't know from what view this was taken. I'm in the process of making a painting of it.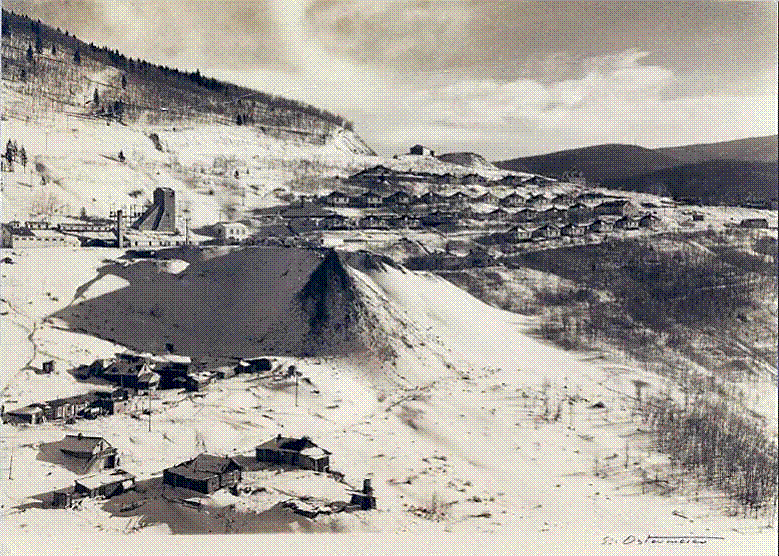 Love knowing there are others out there who still care about the old town! Thanks. Regards, Sharon Scott scott1519@comcast.net
A viewer writes - Monday, January 16, 2012 -- There were women who worked at New Jersey Zinc Mine after 1972. There were at least 4 women. Women also worked in Climax Mine in Leadville area. Nothing much mentioned about them. Some worked there because it was better wages and they were women who had children to raise. Others wanted to do something different. What ever the reason mining was a mans world and they knew it.
A viewer writes -- Monday, January 23, 2012 -- I worked in Gilman as a summer missionary in 1980. Then is was a small community atop the mountain. There were two of us who worked this area, as well as the towns of Minturn and Red Cliff. The little community of Gilman had a small playground on the top of the mountain, with the homes supported on poles, hanging halfway over the mountain. I don't remember how many balls we lost over the fence into the river 1200 feet below, but we did have a great time there. It is sad to see it now a Ghost Town.
A viewer writes - Sunday, January 22, 2012
Leslie (Les ) E. Asbury April 15, 1931- January 15, 2012.
Hello, My name is Sandra Asbury Kelly, I posted a comment a while back and I found & read it in the blog section anyway I wanted to find it again and can't. Long story short it was about the town plumber, Les Asbury, my dad in Gilman, and the school, and slide. Leslie (Les ) E. Asbury April 15, 1931- January 15, 2012. I wanted to post a picture of him. I did not get to tell him sadly that I saw it posted he would have been proud to see his name in my article.
I'm considering a story about my father I won't go into now because it would spoil it but over the years he had become a very unique individual who had helped a lot of people, a 12th generation working class hero and entrepreneur of sorts. In his retirement he rebuilt Ford and John Deere Tractors, old ones and resold them, rode them in Parades, he never had a childhood till he was an adult and then he made up for it. I appreciate your help. And thanks for bringing back some very cherished memories for me and so, so many others.
We lived in Gilman 1963 – 1967, 5 yrs. We moved in 1969 to Ariz., and he worked for Kennecott Copper. After a strike, three years later, he moved back to Lafayette, Co & after 28 years moved back to his childhood roots in Fort Collins, I posted an obit in the Fence Post magazine. He was a pipefitter Union Member for Over 40 years in Local # 208 out of Denver, Co. Anyway I would like to print my comment from your site as a memento if you don't mind. I did not save a copy. I took care of him the last two years, he had become a legend to everyone he knew for his being the tractor guy. He always wore, in later years, overalls and his trademark colorful welding caps. His favorite one had jelly beans on it. People said he had corny off the wall jokes.
In Gilman he started in the mine and not long afterwards he moved to night watchman then mechanic in the garages finally becoming the plumber in five years time. He studied welding and pipefitting at Kennecott, completed their program. He worked many jobs around the front range area during the 70 's and 80's, did mechanic work out of his home till he died, but he got his start in Gilman and I had shown him pictures of your site and the site photos on flicker of the old furnace. He said he had to go check the furnace, you had to keep coal in it, and the guy before him who took over was supposed to keep the coal bin full for the next shift but he would fall asleep and dad would come in to take over and he'd have to hurry up and get the coal. So one night my dad put some rocks in there when he left and it made the guy have to go in real early and fix it. Snow six months to eight months of the year but man the prettiest summers you ever saw, it was so beautiful way up that high on the mountain. We always were told as children not to go and play down by the big blower hole on the side of the mountain it was dangerous, so we were afraid of it. Again the school bell, they picked a different kid every day to ring it. I'm on your email list so hope to hear soon. But just in case kelcrow182@msn.com
A viewer writes - Wednesday February 8th 2012 - GREAT!!!! I wrote you some time ago about my experiences in Gilman. I see a lot of other people have fond memories also. Would you by any chance have among your viewers a person in Red Cliff who has seen or has heard of the CITY LUNCH my gramma was running that in '37 when I was born at Gilman. I've wondered if anyone knows if that building is still standing--and if so possibly get me a picture..Keep up the good work!!!the 'ol native of Colorado old-papa-griz1@yahoo.com
A viewer writes - Saturday, April 28, 2012 -- On 4/27/12 I visited site, tried to envision how mine operated, mainly interested in railroading, poked around loadout at Belden,(see below) Former D&RG starting to look forlorn with trees between rails and rocks on ROW, wonder what UP will do with this line, probably will never see manifest freights again. Minturn is becomming "yuppified" liked it better before. My doctor Ricardo Pena is from there, his g'father worked for NJ Zinc.
A viewer writes - Thursday, May 17, 2012 -- Someone posted a comment about 4 women working at the Gilman mine after 1972. I was one of the four women who worked there in 1974-1975. I lived in one of the houses owned by New Jersey Zinc Mine with 2 friends. The house had hard-wood floors and large windows in the front room and looked out on an incredibly beautiful view that was almost surreal. Everyday we would walk up the stairs that led from the lower row of the houses to the mine bldg., change clothes in a tiny, tiny changing room with 1 shower, load onto the 'cage' and be lowered into the depths of the mine & then walk to our designated work areas. At times it was very trying to be a woman underground because a lot of the old miners felt that women underground meant bad luck so we weren't always welcomed. However, the experience of living in Gilman & working in the mine are memories that are with me forever & would never change anything about that spectacular time of my life.
A viewer writes - Sunday, June 03, 2012 -- Sure wish the woman that had worked at Gilman had signed her name. Now I am so curious to who it is, and if you are in contact with the other 2 women that you lived with. I also lived and worked at Gilman, and knew the other women. Would be great to touch base with you. If you should see this message, I can be reached by email at kmaebarnes@gmail.com Kathy
A viewer writes - Monday 6/4/2012 -- Hi, My name is Kathy and and I am one of the women that worked underground in Gilman during the early seventies. My sister has posted on your site in the past, and she checks it out every now and then. Yesterday she informed me that one of the gals that had been employed there had posted recently. I am dying to know who it is, so I left a message; but it only appeared in the guest book area, I was hoping it would show up under the post from May 17, 2012. What am I missing on your page that would allow me to post and have it show up under her post? With any luck, she will see my post and respond to the email address I left.
The women that lived together were Barb, Sue, and then Mae. I know it has to be one of them that posted, as there were so few of us. It would be great to have a reunion. Wow, we would have some stories to tell. My brothers-in-law also worked there, and my ex-husband, who still resides in Colorado. If there is any way for you to assist with putting us back in contact with each other, it would be greatly appreciated.. Thanks, Kathy Barnes kmaebarnes@gmail.com 626-274-0574
A viewer writes - Sun 6/3/2012 8:17 PM -- Hello all I found the stories very interesting so I thought I would add my own. I barely remember Gilman closing in the 80's but my family has a lot of history there. My father was born there in 1954 and my grandfather worked in the mines for 46 years as an electrician. I'd be curious to know if anyone knew Joe Trujillo. He lived in Red Cliff for years before passing away in 2005. He was 93 and worked a hard life as a miner and mechanic. My mother was from Minturn and was a pin setter at the bowling alley.
Recently I took my wife into Gilman to walk around and see as many of the buildings as possible. I know it is trespassing, but I felt that my family has many years of history there and I needed to see it again before it is tore apart. I was very disappointed in all the vandalism. It's amazing how well those buildings were built. If not vandalized, I would say that many of those structures would look like they did 30 years ago. We found several documents ranging from time cards to x-rays. I wish I could take some keep sakes for myself. There are still two old Gilman dump trucks there and several desks in offices. I really hope that the development project falls through, I believe that Gilman should stay the way that it is today. Lance@holycrosspowderhounds.com
A viewer writes - Tuesday, July 31, 2012 -- I was born in Leadville but grew up in Gilman...I have so many memories of Gilman...my Dad was a Miner but he also drove the ambulance...I also remember the wild flowers there...columbines..I also remember how I would not ride a bike there cuz the canyon was toooo scary and how some of the trailers hung over the side of the cliff. I hope u see this. My Dad was Eldrid Dronen and we were friends with Les Ashbury...I had such a crush on Greg Ashbury....please contact me. Kara Dronen karadronen@yahoo.com I now live in Rawlins WY
A viewer writes - Friday, October 05, 2012 -- i came across your site and loved seeing pictures of Gilman. My Grandparents lived there from the 1950's to 1984. My Grandfather was Joe Gash and my Grandma was Betty Gash. My Grandma worked at Murphy's and after it closed at the Post Office. My Grandfather was welder in the mine and even helped bring the water lines into Gilman. My Dad is Don Green and he was in the 1st graduating class of Battle Mountain High School, but mostly went to Red Cliff. My Dad will tell stories about ices skating on top of the garages, sledding near the dump and pin setting at bowling alley and a lot of other stuff that should have killed him. My uncle is Ed Gash and my my Aunt is Wanda Gash Thompson. They both were born and raised in Gilman. As a military brat, Gilman is the place we always referred to as home. I still miss this great place.
A viewer writes - Tuesday October 30, 2012 -- is it possible for you to contact a poster and ask them to contact me? I would really like to get in touch with the person who posted on your Gilman site on Oct 2012 . They said there father is Don Green. I went to school with him and have been trying to find him and I knew the family well. My mom and Dad were Doc & Ethel Hess. I have posted on your site before and always enjoy reading the upgrades. My name is Lois Trout my email is cotrout1942@comcast.net. thanks for any help -- Rocky Says - Only if they read this and respond.....
A viewer writes - Monday, October 29, 2012 -- I was born in Denver, but adopted by Donald and Byrnece Webb, who lived in Gilman, in 1949. I lived there until 1967 when I went away to college. I loved reading the information and memories about my home, and I found names of people that I remember! I am going to write some of my memories and send them to you! Meanwhile, keep up this great site and the research you are doing! Donna Webb Shultz dpalomina@aol.com
A viewer writes - Wednesday, November 07, 2012 -- Pleasant site to visit, noted that the history as told by some is somewhat conflicting with actual facts. But we all suffer from memory loss as we age. Anyone who lived there from the 50's onward has got to be old, like me. My only real comment is to those who dare to walk thru this camp. Enjoy the sights, but please why do people vandalize everything, history should be saved and recorded as long as possible. Why the destruction, wonder whats left of the house I lived in? Family transferred from the New Jersey Zinc Companies ore processing plant in Depue, Ill. to Gilman, Colo. in 1952. In the late 50's I worked the surface crew as a summer job, those were better times than what we are up against today.
A viewer writes - Monday, February 11, 2013 -- Rocky: I enjoyed your section about Gilman, Co. I worked there in the summer of 1967. I was raised in the coal fields of Pa. and was studying engineering at the University of Kentucky. I wanted to see what hard rock mining was all about. At least I sure found out what not to do. I was interested in the post from Thursday Feb. 17 2011. I had to have lived down the hall from him. I can remember Ronnie, Francis and Howard. Skip was a contract diamond driller and Barney was a company man whose wife left him and went to Vail. Mark Boyce Central City, Pa. mark_boyce@yahoo.com
A viewer writes - Wednesday, March 06, 2013 -- I live in Leadville and happen to know the guy that was head of security for the Ginn Corp. He let me go to Gillman whenever I wanted. I could go onto the property on the other side of the highway. I asked if I could go into the old town with him to look around and take pictures and he would not let me because of large amounts of cyanide, asbestos and other dangers. Ginn stopped the development due to the economy, and mostly water rights. I took as many people there as I could to show them the beauty it has to offer. I have seen a model scale of what the plan is and it will be very neat when completed, but also sad to see it change. I am still in contact with the gentleman in charge of the project and am looking forward to going back as soon as the snow melts! Please be aware of the risks of trespassing.
THANKS to Sandra Asbury-Kelly for the post card.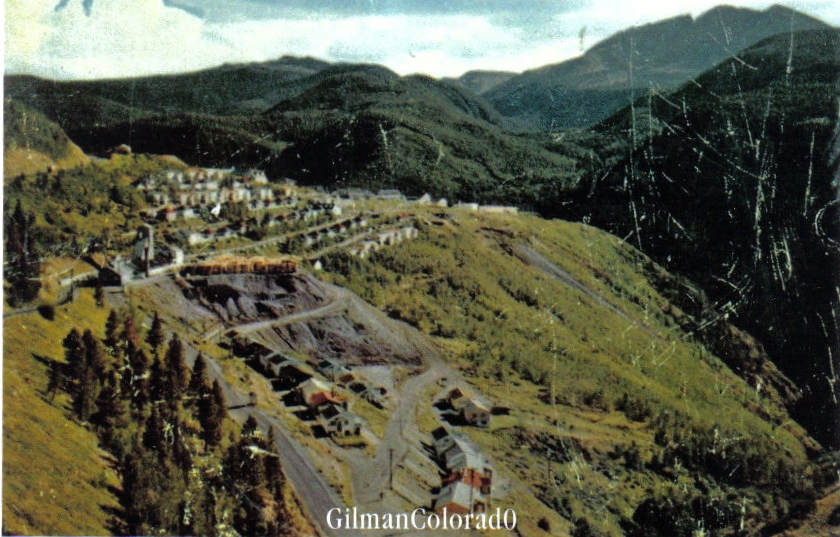 A viewer writes - Friday, May 24, 2013 -- 1957-66 I enjoyed your site with the pictures and all, Brings back a lot of memories to me. I remember walking from down town Gilman to up town to go to school. I was one of the ones in the joke that literally had to walk backward to school. At least I had shoes.:) The wind howled and blew very hard,to the point I couldn't see very far in front of me on the way to school. I don't remember how far of a walk it was. To me it seemed like at least 1/4 mile or more. I would cry because I couldn't breathe. It is funny now, that I am an old lady then when I was in grade school, Headed up to school, first with Mrs Clark she was first and second grade teacher. Then Mrs Cryon (sp) taught grade 3,4. Do you of my age group remember Mrs Crayon giving us a spanking for cheating on a test. Most of us were not cheating we just got all the problems wrong. LOL I have very fond memories of sled ridding down the hill on the road right above us, or ridding from the mine to the bottom. I was to afraid to take my sled to the mine it would make me go way to fast. But now if my brother gave me ride on his I would go to the top.
I wonder if the wild Snapdragons still bloom in the spring all along that hill across from the post office. (box 95). We would stop at Mr Murphy's store for candy to eat on the way home. My dads nic was essa guy since no one went by their own names down in the mine.
I do remember the whistle going off at noon. I remember there was death that happen down in the mine. And the wife of the man came to our house before she knew it was her brother, not her husband but she was crying and when my dad come in the kitchen door, she started to cry and ask my dad who was, he shook his head yes and she fainted right into his arms. So sad I remember that like yesterday. When we moved out of Gilman it was because my own brother had an accident playing in the snow in the back of the Durfee's house.Him (Carl and another boy) were digging in the snow, they got caught in a mini Avalanche That was in 1966. My mom hated Gilman because of all the snow and always worried about my dad in the mine. So once that happen she said she was leaving and going to take me with her. So dad gave in and we all moved to Denver. dandjh@bresnan.net Judy Gomez-married name is now Hackney
A viewer writes - Monday, July 08, 2013 - Hi all I also lived in Gilman back in the 50"s I spent all my high school years there and loved it. My name is JoAn Myers white for anyone wanted to contact me. I married Glen White. I was up by Gilman and Red Cliff last weekend for the first time in a long time. The old high school in red cliff in now open to the public and has all the old picture of the class in the old office room. bjwhitegj@bresnan.net
A viewer writes -- Monday, August 05, 2013 -- I was born in Gilman the very end of 1951. My sister was born there too. My Dad was a mining engineer and worked for NJ Zinc. We were there several years as extended family members who were also in the industry did. I visited in 1979 by myself and it was still somewhat functioning with people in the office. A cousin just visited but I don't know what she saw since it seems it's off limits. thanks for having the site. ml@bytesdefense.com
A viewer writes (and wants to Know) Tuesday September 17th, 2013-- "I would like to know if anyone knows a safe way to explore around gilman... preferably the bottom by the train tracks or if there are any audits or tunnels.. and is this area patrolled by security still? thanks guys! rhickman7090@gmail.com"
Rocky Responds - Been several years since I have been there. Plenty may have changed so I can't answer your question. Maybe someone that visits the sight can let us know.
A viewer writes -- Monday, November 04, 2013 -- I went to school with Eddy Gash. We used to wait for the school bus at the clubhouse and by the warehouse right below the clubhouse. My father worked there for 45 years. I did kindergarten through third grade in Gilman. I remember the Asbury family to they lived near the post office I think. Joe and Betty Gash lived in the first house on the same street I lived on. The school was built just before 1920 I think because we found a bunch of newspapers in the walls that were used for insulation when they tore it down in the 70s. The buildings in the bottom of the canyon are the mill and used to connect to 1600 level in the mine. I worked with the surface crew for 2 summers then worked in the mine the summer I graduated from high school. That was in 77. Eddy Gash graduated the year before me. Growing up in Gilman was a lot of fun.
A viewer writes - Sunday November 10th 2013, I found your site from Gilman's Wikipedia site. Very interesting to me as I was also born in Gilman. In February of 1946 my father, a pilot in the Army Air Corps was stationed in Germany and my mother, who was from RedCliff, just down the road from Gilman, returned to stay with her mother as I was due to be born. As there was no hospital in RedCliff, my mom was driven to Gilman's New Jersey Zinc Mine Hospital for my delivery. Someone should organize folks who were born in Gilman. -- Jim Maloney
Rocky says - Any volunteers??
A viewer writes - Saturday, January 11, 2014 -- Hi Rocky: I have greatly enjoyed the pictures of Gilman and comments by former residents and neighbors. I had the pleasure of working at Gilman from 1968 - 1974. I started as a mine shift boss and ended up as General Manager for the last few years. Gilman was a prolific zinc producer and was the 2nd largest zinc mine in the US in 1971. The miners at Gilman were great employees, very skilled and probably the best mine timbermen I ever worked with during my mining career. I have to agree with many of the comments that it is sad to see a once thriving town producing jobs, dreams, wealth and taxes fall into disrepair. Thanks for saving some of the history. Al Winters
A viewer writes - Monday January 13th 2014, Hi. I am very proud that I was born in Gilman's hospital in 1950. Got to visit the ghost town back in 1994 and actually walk in my parents home briefly. Very moving experience since I was only 3 weeks old when my parents moved back east.
A viewer writes Thursday January 23rd, 2014 -- Just viewed your photo spread on Gilman. My uncle's family were long term residents from the late 30's to early '70's.--the James Amon Murley family. My uncle was Personnel Manager with New Jersey Zinc and my Aunt Pearl tended the Post Office for many years. It was a very fun place to visit when I was a kid.
A viewer writes Tuesday 7/15/2014 --- I was from Gilman, my father John P. Skinner was employed by the NJZ. To this day my best memories are from that small mining town. I remember it like yesterday, bowling lane, Murphy's store,(Jimmy Murphy), post office, school, hospital. All the people, Barns, Mills, Nelson's, Webb's, Laguoris, my buddies, Johnny, Kenny Mills, Bruce Nelson and Johnny and Jimmy Laguoris. I was only there until I was seven (1957) when my dad was transferred to Treadway, Tn. I will never forget my time in Gilman, it is in my heart. Jack Skinner - happyhill@frontier.com 973-600-0236
A viewer contributes -- Tuesday 9/30/2014 --- If you want prints contact Charles Gesner ccgesner@gmail.com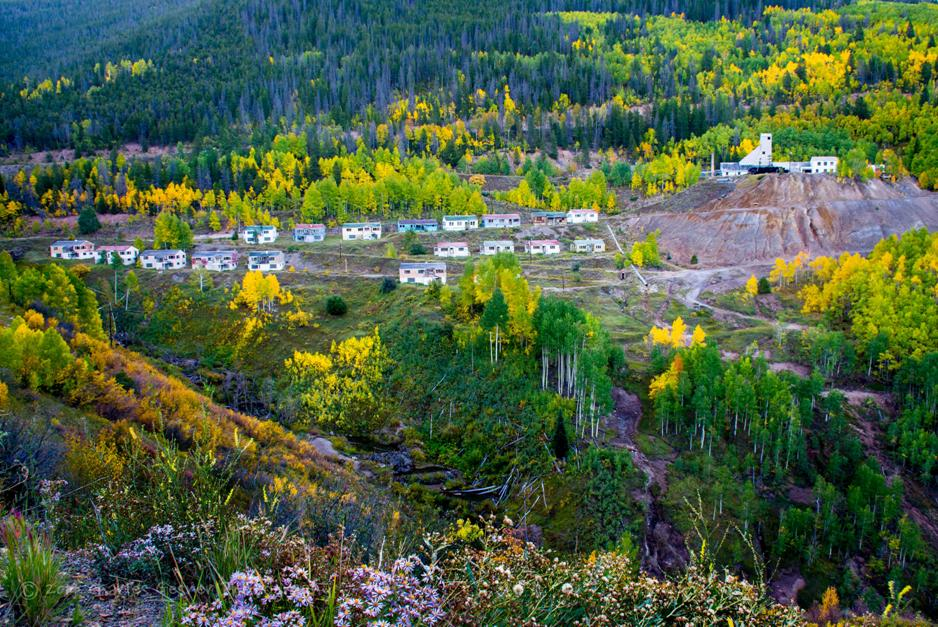 A viewer writes -- Monday, October 13, 2014 -- I have visited Gilman Colorado many times over the past years, dating to before it was closed in the early '70's to when it was completely abandoned in the 80's. Today (2014), while still officially 'closed,' the former owner- the Ginn Corporation- has abandoned its interests -and apparently also all its security of the site as well. While not a recommendation that anyone try this, I have parked along US24 and simply walked down into the town numerous times. The most I ever received was a very polite note left on my vehicle by the Eagle County Sheriff's office saying I was 'Trespassing'- but no ticket etc. Since I was parked on the shoulder along the highway, it remained anyone's guess just what my vehicle was doing there, and of course no one has ever seemed interested in roaming about, down in Gilman, in search of a maybe-trespasser. If you decide to try this, just be discrete. And you do so at your own peril! Unfortunately there isn't much remaining that the vandals haven't tried to destroy, though as you explore, there are tons of small treasures to be discovered...that is, if you have that certain 'sense of history' and a little poetry in your soul. For example? well, amazingly- even tough the vandals have tried to break just about everything glass, many light bulbs still remain whole in their sockets! Find the houses with the fireplaces?, can you imagine the families gathered about them at Christmas's long past?... or that collection of careful folded Safeway paper bags (ca. 1975) tucked away and forgotten by a housewife in her kitchen cupboard? The child's bedroom with the colorful stickers.... The water damaged roofs of the houses are collapsing them fast, not to mention the offices- be careful of rotting floors. Take a flash light and maybe you too will find a little treasure left in the dark cellars, missed by the vandals. I could not leave the beautiful 1930's Art Deco light bulb I found in a safe little closet to these clowns- It now graces a bookshelf and with it I have memories of my visits, going back in time, memories of rapidly fading Gilman,-- a neat old/modern ghost town. Coyote Frostbite, Leadville, Colorado (posted october 2014)
A viewer writes - Monday, November 03, 2014 -- It isn't just looters who are ruining our historic ghost towns it is also vandals. They never seem to tire of destroying things. Gilman which is a ghost town has been thoroughly ransacked, every window busted out, anything of historic significance has been taken. If you see these 'folks' smashing and grabbing please say something before it is all gone. As always record everything you explore via video or photos. Jim (hometown of Gilman, Colo)
A viewer writes - Sunday, January 18, 2015 -- hello, I was told about your site by a friend. my name is wanda (gash) Stanley, I was born in Leadville co. and lived in gilman 22 of my 62 years and go by there at least twice a year and reflect on my life.i continued to live in minturn for several years. there was a lady pam who posted we were friends. if she would like or anyone else my e-mail wsfungrandma@gmail.com
A viewer writes - Thursday, February 12, 2015 -- My maternal Grandfather worked the Zinc Mine back in 1940. On the Census, he listed his occupation as Shipping Crewman with a total salary for 1939 as $1100.00. My mother and her two sisters were born in Gilman, but the family home was in Rainsville, NM. My Grandmother and the girls traveled by train to visit my Grandpa often. It just so happens that in 1940, they were all included in the 1940 Census both in Gilman, CO (4/22/40) and also in Rainsville, NM (4/11/40).
If anyone knows the train/trains they would have taken for this journey, I'd really like to know. My mothers youngest sister died as an infant while traveling during one of their visits and my mother said they buried her at one of their stops along the way. She didn't remember where.
A viewer writes - Wednesday, April 08, 2015 -- I saw this on the internet regarding Gilman, Colorado. My late father-in-law was called Denny Doyle (his name was really Donald Doyle) he was the son of John W Doyle who worked security in the mine, he was an immigrant from Ireland who's wife was Ida. I never met my father-in-law and my husband said he rarely talked about Colorado. Did anybody know them?
My father-in-law had joined the NAVY and then attended the University of Colorado and became a geologist, got married moved to Texas had two sons then retired in California where he died in 2002. Janis Doyle janiskingdoyle@gmail.com
A viewer writes - Thursday October 22nd, 2015 - My daughter and I climbed down into Gilman last week, Since I had lived there in the 50ty's and knew the town it was special for us both , I had been telling my daughters about Gilman their whole life. Sad to see the all the graffiti, but we felt safe checking out several buildings. loved seeing the club house with the stage still in tack. I am Lois Trout Martinez my email is cotrout1942@comcast.net. I would like to hear from the person who mentioned the Murley's , they were good friends. thanks Rocky for maintaining the site.
PS - thank you for answering, I love your site and please use my comments. I have gotten in touch with at least 6 people through your site. One was a boy I use to babysit who is now in his 50ty's Lois Martinez
A viewer writes - Friday June (th 2018 Hi, my name is Jessica I live in Louisiana. While visiting my sister in Colorado last year (2017) my niece and I did some exploring in Gilman Colorado. Yes I know, we were trespassing. You only live once, right! Something that awesome, I'll take my chances. I was disappointed and horrified by the vandalism. As we explored, (being carefull of course) I felt so many emotions just wondering how it once was. There have been so many things left behind, invoices from New Jersey Zinc Co., x-rays, appliances, machinery, etc. After leaving Gilman, I went through the 200 or so pics I took wondering what each buliding was, who lived in the houses, who worked in the offices. I was hooked, I started doing some research, I can't find much on what the names of the buildings are (at present) except for maybe the New Jersey offices, mine shaft, bowling alley, dancehall. I have some questions about some buildings that are still standing. If I can get some info on them it would be greatly appreciated. I can email pictures for identifying and info. Thanks in advance. Also if anyone has pictures before the 1970's that could be emailed to me would be great. mortonjessicafive@gmail.com Jessica
A viewer writes March 13th, 2018 - Photo from 1964/1965 1st grade, Mrs. Clark was out teacher, I'm the first one in the second row, with Pigtails, my best friend Becky Witthauer is next to me. Hope you can post this. My maiden name was Sandra Asbury, I have always gone by Sandy.