Copyright © 2001 - 2018 All Photos, text, materials on this site are copyrighted to Rocky Mountain Profiles for the exclusive use of Rocky Mountain Profiles and Michael J. Sinnwell.
Lake City Colorado Townsite - Ghost town
Photos courtesy of Brad Nettleton - Lake City Colorado 2005
These pictures were taken in July of 2005 by Brad Nettleton. I had been there on several occasions but each time it was raining and overcast. So THANKS to Brad for supplying a dozen photos for us to see.
We can all thank Enos Hotchkiss for finding a gold vein that brought the prospectors to Lake City. It was first called Hotchkiss but later named Lake City. It was settled later than other towns in Colorado because up until about the 1873 it was on Ute Indian land. Just four miles to the south is Lake San Cristobal, Colorado's second largest natural lake.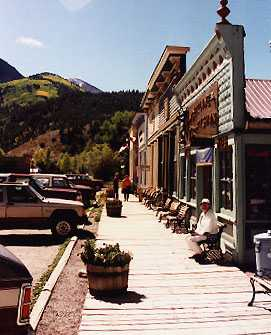 This Photo courtesy of Robert B. Houston Jr. He claims there is a great Ice Cream store here. Guess I better stop on my next trip. If you are a history buff you should read Bob's books.
"The Battle over Silver; Porter Nelson in Aspen." and
"Two Colorado Odysseys: Chief Ouray Porter Nelson."
He was kind enough to share some interesting history on Crystal with me. At one time he was a 1/3 owner in the Sheep Mountain Mill in Crystal.
A viewer writes November 2009 -- I have not been here myself, but am considering relocating to Lake City. Noticed that someone told you there was ice cream in Lake City, and I happened upon this website: http://www.sanjuansodacompany.com/info.html Happy hunting! -- April