Fierro New Mexico Townsite - Ghost town
Photos courtesy of Mike Sinnwell June 2009
Fierro means Iron in Spanish. Perhaps that is what interested the Colorado Fuel and Iron company of Pueblo Colorado to be interested in the area. They mined iron, copper and zinc in the area. Some of the ore had to be shipped to Colorado for refining.
Rumor has it that they had a large log sunk deep into the ground with about eight feet sticking straight up out of the ground. That is what they used as a jail in case someone got a little to drunk or rowdy. Yep, if you were the villain you got tied up to the log until you sobered up or calmed down. Many a guy spent the whole night tied up.
The area was first mined and discovered by a German immigrant in 1841. As many mining towns WWI, the depression and WWII had a tremendous effect on the town. It started its rapid decline in the 1930's. It had a post office in 1899. In it's heyday Fierro boasted a movie theater, a variety store, and a pool hall. The pool room was owned by Sheriff Mack Minton who claimed he knew Billie the Kid. He also resented the fact that people called Billie a hero. In the 1920's a fire destroy much of the town.
If you go here make sure you see St Anthony's church and the cemetery. Every time I walk into one of these cemeteries I see evidence of mine accidents, sickness, young peoples death and war heroes. This one is no different. Even has the "short fuse" death of several miners recorded.
A viewer write - Sunday July 4th 2010 - Great site. Brings back great memories. I am from the Guadalupe A. Loera family. Born and raised in Fierro, New Mexico. Left to join the U.S. Army. Our family attended mass at the St. Anthony Church. June 13 is the celebration of St Anthony, the celebrations were simple but at the time the greatest. My family were miners and even I worked in one of the mines at 16 years old (underground). That was my summer job since there were no McDonalds at the time. Thank You for the memories.. Arturo G. Loera Las Vegas, Nevada LLoe7@aol.com
A viewer writes - Friday, February 03, 2012 -- Also, I would like to express great surprise for finding pics of my hometown, Fierro!! I was born in Silver City, NM as most residents were, but grew up, went to grade school, and left when my father, Manuel G. Parra, took our family to live in Deming, NM and work the mine outside of town (Floritas mountains). My grandfather, Merced B. Campos, and grandmother, Juanita, and their 3 kids, Cruz (Cuy), Tivida Loya, and my mom Simona, all lived there for many years. Grandpa had his home right across the big open space from the cemetery, where he now rests along with grandma, and a lot others including our neighbors, the Donez family. I only remember Virginia Arciero and Lupe (?) from my first grade class. We lived right on the main road where the railroad crossing was to get to the bar and the home of the Tovars. Tony and Pingua were my buddies and we played kid games all the time including throwing rocks and running on the railroad track. Ha! Chava Donez and Maria (Donez) Hernandez are still very close to us. My dad passed in 2006 and mom followed in 2011. Their eyes would always get real big if we mentioned Fierro or teased about taking a trip there. Our good friends, Felipe and Josie Garcia, from Bayard also talked endlessly of all the relatives and friends we all had there for the many years of their lives. Of course, everyone worked at Asarco or other mines in the area...Cuy eventually moved to Tucson and became a controller there. Our family ended up in Bagdad, Az after many years in Deming. The Rodriquez family and others also moved to Bagdad for work, and many moved back to the Santa Rita area after retirement. Speaking of the St. Anthony Church, I was named after it and also because I was born on June 20, close to San Antonio day. I vividly remember (circa 1952) going to mass there, the school next to it, the main store, the post office, el posito or the watering hole for our drinking water, the road past the post office where we would go into the mountains to cut old dead trees for firewood in my Uncle Cuy's Model A...Ha!! Cuy, grandpa and I would go. Cuy's wife, my Aunt, Lucriasa (Lukie), Xavier, and Jennie, my cousins would stay home. We left Fierro somewhere around 1957 for Deming, and left Deming in 1960 for Bagdad. I haven't been back since...after grandpa died, I just couldn't emotionally handle the sadness of all my childhood memories gone in the wind. I still remember the big white clouds and have never seen them anywhere again. When I die, I will stop by and visit Fierro for a minute before I make my way to Heaven and see all my loved ones again. Thanks for the pics...they touched my heart. Sincerly, Antonio (Tony) Campos Parra, oldest son of Manual and Simona Parra, brother to Samuel (Sammy) and sisters, Manuela (Mellie) and Esperanza (Hope) Parra. I can be contacted at mascotman1@yahoo.com. I currently live in Chicago, but like I said, my heart is still in Fierro, and always will be.
A viewer writes - Wednesday, June 27, 2012 -- I was so happy and surprised to come across this site. My grandfather, Juan Manuel Araujo owned the store in the town of Fierro. It is the white bldg with the green awnings. He also owned the gold colored house in the pictures that were right next to the store. My fondest childhood memories were in Fierro as our family lived in California and my brothers, my cousins and I would all spend the entire summer in Fierro with my grandparents. We ran the hills all day, built a tree house, explored the school that has since been taken down, raced down the main street, scraped our knees, got splinters in our fingers and sap in our hair. I agree that the chapel is the most beautiful little chapel around and the murals are absolutely beautiful. I made wonderful childhood friends there also. I wish Fierro were still the same so my children could have enjoyed the childhood innocence of that place. I go back there every couple of years and the house and store still stands...I walk through both and they seem so much smaller than what I remember. My grandma Minga would wake early and make homemade tortillas every morning for us. We would love when the railroad stopped across the street from our house and the conductors would come into the store to buy food and drinks. Us kids all took turns ringing them up on the cash register with the lever....I can't say enough about this town and it will forever been embedded in my memory. Theresa Araujo Okamura; teokamura@verizon.net.
A viewer writes Wednesday September 26, 2012 -- Howdy: I just ran across your page regarding Fierro, NM. I thought you might appreciate a photograph of the old Fierro jail; it is attached. I threw in a couple of others of the place for good measure. - Neal W. Ackerly, Ph.D. Dos Rios Consultants, Inc. P.O. Box 1247 Silver City, NM 88062 575.644.2490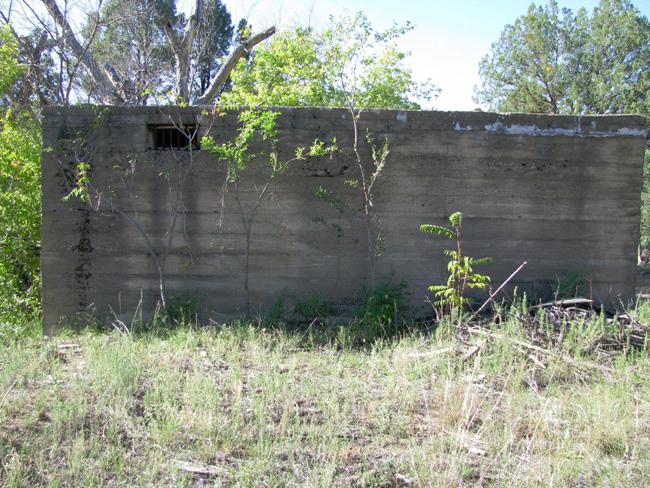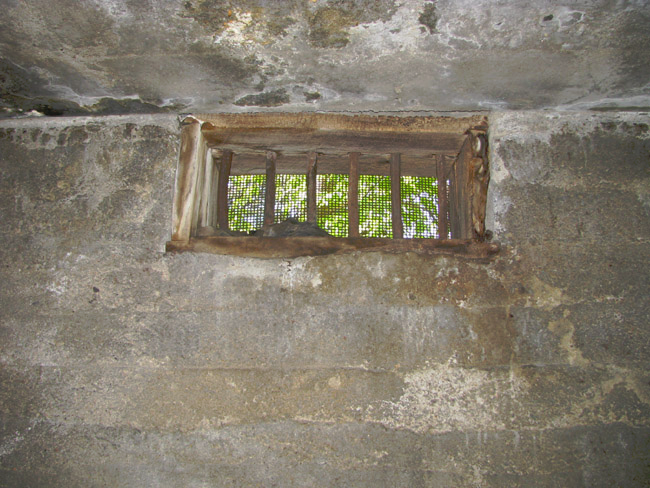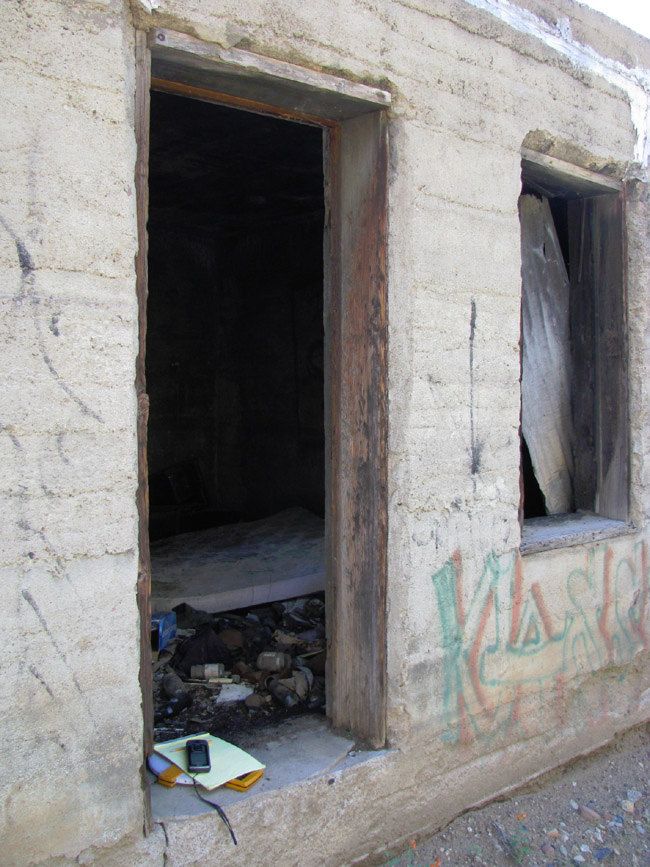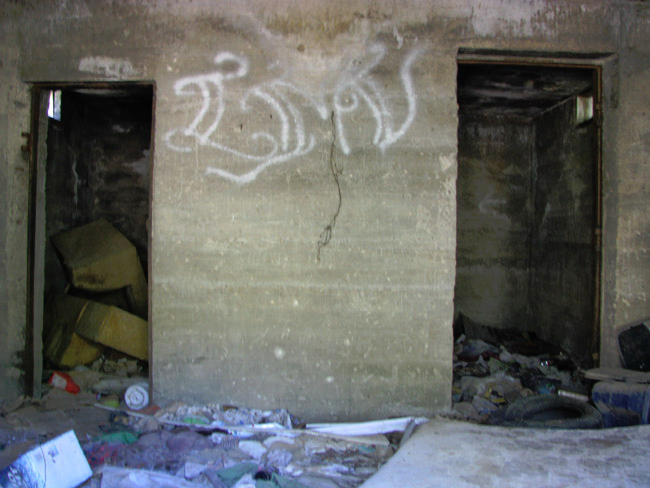 A viewer writes - Friday, October 19, 2012 -- Just came across this wonderful page about Fierro. Our family is sitting here in California looking at your pictures. My dad is Cruz Gonzales married to Pearl. He was born and raised in Fierro to Luis and Francisca (Pancha) Gonzales. He says he can remember a lot of stories of the Llorona. He and his friends use to play a kind of handball at the Rebote by the arroyo. He also remembers playing baseball by the cemetery. He remembers giving money to the manager as did the other players. The manager went to Juarez to buy those uniforms and came back with some ugly green uniforms. They named themselves the Parrots because of those uniforms. Soon after that they got new uniforms and changed their names. My parents moved to California and raised their children in Orange County. I, Brenda Gonzales Padilla (their daughter) now live in New Mexico and raised my children in Silver City. I just recently retired after teaching 26 years at Jose Barrios Elementary. We will come back to this page at another time with stories, names and pictures.
A viewer writes - Tuesday, October 23, 2012 -- Hello, I am looking for any information or pictures of my Grandfather James Benjamin Gilchrist's mercantile store in Fierro,NM. I t was called the Gilchrist & Dawson Mercantile store. My father was born in Fierro,NM. in 3-1910. Here is a link to some info on my grandfather Gilchrist. Scroll down to see pictures of the Fierro home my Dad was born in and pictures of his mother Minnie Gilchrist and him taken at the home where he was born in Fierro,NM. http://dancinglady.tripod.com/Scotlandhistorypictures.html This is my Grandfather Gilchrist.http://www.newmexicohistory.org/centennial/Delegates/Bio-Gilchrist-James-B.html Thank you for any help you can give me. Kathleen Gilchrist Garrels email decoforever@yahoo.com
A viewer writes - Sunday, January 20, 2013 -- Hi my name is Julia Duran Atkinson my grandfather Pedro Duran was born in Fierro in 1881 my father John Jaramillo (his mother was Rita Jaramillo) Duran was born in Fierro in 1917. Rita Jaramillo born in May 1891 or 1892 married Pedro in 1910 in Fierro. That Grandpa Pedro brought his family to Los Angeles California shows up in the 1920 Census. 1920 was the last information about grandma Rita Jaramillo and we have not been able to find anything else about her it is as if she just vanished! By the time we were young kids grandpa was married to Clarita Torres which turns out to be Rita's aunt. Rita's mother Telesfora Torres and Clarita were sisters. As an adult and with much research I was able to put all this information together. As many of us say years ago no one talked about anything too bad for us that are trying to put our Ancestry together to leave to our kids. If any one has any insight as to my family it would be appreciated. jdatkinson2004@yahoo.com
A viewer writes -- Friday, November 15, 2013 -- Hello, my mane is David Muniz and I grew up in Fierro. My parents were Mike and Lily Muniz. I was born in Santa Rita, but lived in Fierro until I got drafted into the Army, stayed in the Army for 22 yrs and retired in 1993. I now live in Las Cruces but I go back to Grant County as often as I can as I still have family in Bayard, Mimbres and in Silver City. My wife and I recently attended the celebration of St Anthony at the Fierro church and really had a great time. Looking forward to doing it again next year.
A viewer writes - Saturday, June 21, 2014 -- Last summer my grandfather Leo Loera and I visited Fierro, his birthplace. He shared many stories of growing up there while his father worked in the mines. The home that he was born in is now covered by a slag pile from the mine that owns most of the property that used to be Fierro. One of the "higher ups" at the mine was gracious enough to allow us onto mine property to search for remnants around the foundations of homes that used to house family and friends. We toured the cemetery to pay our respects to family members, some who lost their lives in the mines around Fierro and Hanover. My grandfather remembers playing baseball in a small clearing adjacent to the cemetery. We rummaged through the foundation of my great-grandfather's house located directly across what used to be the post office. My great grandfather was very good at making things with his hands and we were trying to find anything left behind that may have had his trademark "Loera" welded into it. Even though there is not much left of the town, I couldn't help but feel the history of the place. A train still runs down the old tracks daily from the mine. I hope to be able to go back to Fierro soon and reconnect with family who still live in the Silver City area. I would love to return with my grandfather and bring my wife and four sons to soak in the stories and history from Fierro that my grandfather loves to talk about. Erik Loera.......email: eloera75@gmail.com
A viewer writes - Saturday, March 28, 2015 - My wonderful grandmother, Librada Martinez and her huge family, 12 kids, lived in Fierro. I never tire hearing the stories. They lived in a "hotel" type of building. My great grandmother must have one tough cookie to bring up a family that big in mountain conditions. Just last week, Mar 25 2015, my mom told me again for the umpteenth time how the train would take them right to their property and stop for them to get off. Robert Velasquez syn707@netzero.com
A viewer writes - Wednesday, April 29, 2015 -- I am at my mother's at this moment, April 29, 2015, visiting with her. I shared with her that I had someone contact me after reading my last post. My mother wants me, LOL, to write that her father, Inez Carrasco, was the one that placed the white cross on top of the Cierro De La Cruz mountain. I never met my grandfather as he passed away when my mother, Elvira, was she was six years old. We do have a photo of him. He took his bride, my grandmother, Librada (Martinez) to a mine for their honeymoon. Robert Velasquez (syn707@netzero.com)
A viewer writes Saturday, May 23, 2015 - Just came across this page- Looking into my maternal family history and Fierro, New Mexico is the start of that line. My great-grandparents, Carlos and Pascuala Ramirez lived in Fierro with several of their children who were born there, Gavina, Merced(es), Panfilo, Epimenia, Cecilio (my grandfather) and many more. I believed they moved there as early as 1914. Carlos worked for Empire Zinc Mining Co. in Hanover. If any one has any stories/pictures of the town around this time- or any other history/documents, please contact me.
Crystal Villalobos crystalvalverde@gmail.com
8/2/2017 - I first posted on your blog two years ago. In the past month, I received an email from someone who saw it. Since then we've been exchanging emails discussing the grotto or shrine behind St. Anthony's.
I just wondered if anyone who visits your Fierro page knows any information about the grotto and the large statue inside.
I must say that I have two great connections to Fierro in general. My cousin has keys to the church as one of the caretakers for it which she took over from her mother. I have many relatives who are buried in the cemetery nearby. I also have an aunt who lived in Fierro until 1962. I have yet to contact her. Of course, my mother knows a little about it as she lived there for a few years when young.
With that said, I hope no one feels that they cannot add to the information I have collected so far. The way I see it, many people have information, memories, etc, but no one person knows or remembers everything. With each piece of information that I gather, I can put together a much better picture.
The lady that contacted me is interested in the grotto. Now that I have this "Fierro Fever" my focus is on one of the crosses that may be on the church grounds. My grandfather who died when my mother was around 8, made a cross. I imagine it was at least 10 feet tall. It was large enough that he needed one of his brother in laws to help him carry it up to a hill. Sometime later, the cross was taken down. I don't know why yet. Or which hill it was placed on.
In photos, I have seen what appears to be two hills on the north side of St. Anthony's church. The larger one just north of the smaller one. The largest one seems to have a formal name of Hanover Peak or Hanover Mountain. Not sure what the smaller one was named.
There are two books that refer to a cross that was on a hill. Frank Ramirez's - "Remembering Fierro, and Celia Reyes' - Ghost Town Memoirs - Fierro Will Shine." Twice in Frank Ramirez book (including the revised edition) he mentions the grotto or shrine and a cross behind it. But he states in one photo that the cross was on top of Cerro De La Cruz (Hill of The Cross) and yet later in his books, he states the cross was on Cerro Grande. The grotto and the cross were also mentioned in Celia Reyes' book and she wrote that the cross was on Hanover Peak. Quite confusing when you exam the photos and conclude that the grotto and the shrine are one and the same and they seem to be talking about the same cross.
So I am hoping someone knows about these hills...or can direct me elsewhere. I am hoping my contact with relatives will yield the information I am seeking.
Thank you so much..and I hope your site has been taken care of.
Robert Velasquez syn707@netzero.com
A viewer writes - Afternoon Mike, I'm once again sending you some stuff on Fierro, NM, specifically two drink tokens for saloons about which I know absolutely nothing. Perhaps our readers can help us out.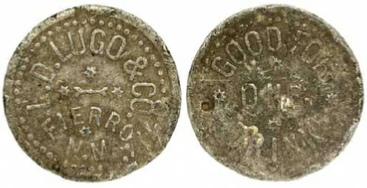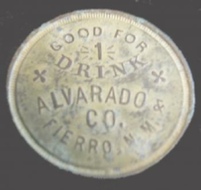 Best regards for the coming year, Neal Ackerly