Dunton Colorado Ghost Town
Photos Courtesy Mike Sinnwell September 2003.
Strange history for this one, - Dunton was established in 1885. Office opened in 1892. Population reached perhaps 300 in the early 1900s. Emma mine was the big producer. In 1918 it was basically a Ghost town. It was purchased and resold numerous times since then. It had a life as a mining town, a cattle ranch, a dude ranch, and a biker hang out. It is now private property with a very exclusive resort. Much of the town was reconstructed and you can even sit at the bar and have a drink. Supposedly at the same bar where Butch Cassidy and the Sundance kid drank a few.
At least two ways to get there. One easy and one not so easy. I choose the hard way. About a half mile up a narrow 4X4 shelf road I encountered some tourists from Texas driving a big old Buick. They were trying to turn around to get back out. I sat and watched with amazement. Enjoyed the view. I should have taken a picture to give to them to demonstrate how stupid they were.
A viewer writes - Rocky - I am enclosing an attachment of information on the Emma Mine which I got from another source. It is pasted on the reverse of the Photo. The photo is of the Emma mine mills and bunkhouse. There are four people standing front of the bunkhouse which I have not had a chance to study under magnification. I found the photo years ago. I donated a replicate to the Western History Department of the Denver Public Library. I hope you appreciate it more than they seemed to. I am quite willing to give you the right to post it on your website for your enjoyment and that of others, I have some concern if it can be downloaded from the website.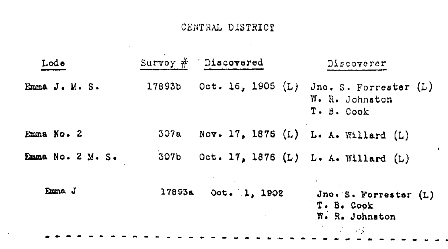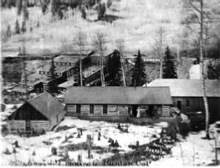 I ran into your website while searching for a great uncle who in 1880 was working in a silver mine in Hinsdale County. His name was Lyman Coplen (misspelled Leman Coplen) in the 1880 census. He was a colorful character who had his thigh broken while a prisoner of war in Tyler Texas after being captured by the Confederates. Shortly after his release he was caught in the revolving shaft of a steam powered sawmill and had numerous broken bones. At 43 he was engaged in hard rock mining at high altitudes. I pick him up again about 10 years later in Ouray. One tough cookie!
Daniel Wenger
A viewer writes - April 8, 2009 - My grandfather, Leonidas Holbrook Crapo ran the pack mule train between the Emma Mine and Rico when he was a young man. Richley Crapo
Rocky says - I thought this was a joke when I received the above note. Crapo just did not sound like a real name. Then I researched just and little and found this ---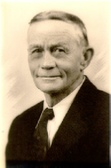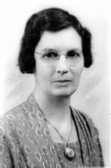 Nina Grace Rhinehart and Leonidas Holbrook Crapo
Leonidas Holbrook Crapo, my grandfather, was born in Paradise, Utah, in 1876. As a young man, Leonidas worked for the Emma mine in Dunton, Colorado. His job was running the mule train which packed supplies into the small mining settlement located at over 9,000 feet elevation in southwestern Colorado and which carried the gold from the mine to the railroad town of Rico. He married Nina Grace Rhinehart in Norwood, Colorado in 1908. Together they had five children. He died at age 78 in California.
A viewer writes - Wednesday, September 22, 2010 - smokieii@hotmail.com Hi Rocky, just came through the town of Dunton, there was a locked gate at the front. I wondered why this was, so checked on the net and found out it is a world class resort with hot springs and the works, and very pricey too.. Thanks Don R
A viewer writes - Thursday, December 08, 2011 --- Hi there! I've been researching family history for years and kept hitting dead ends with my husband's great-grandfather Robert Neil Rogers (b 1863, d 1932). That is, until last night. I found the attached document which is a transcription from a 1905 book Progressive Men of Western Colorado. The piece about R N Rogers states that he was the founder of Dunton, but my preliminary research does not support that. I am wondering if you can shed any more light on this, my most recent mystery? The other information in the piece (being Mayor of Telluride, owning a livery, marriage to Clara, daughter named Thelma) is all accurate. However, this is the first piece I have found that mentions Robert's parents, place of birth, and anything about Dunton. Thank you in advance for any information you can offer. Yours truly, Martha Burke cmgirl4416@yahoo.com
Attached document --
ROGERS, R.N.: 1905 Bio, San Miguel County, Colorado -- ttp://files.usgwarchives.org/co/sanmiguel/bios/rogersrn.txt
---------------------------------------
Donated June 2004
Transcribed by Judy Crook <jlcrook@rof.net> from the book: Progressive Men of Western Colorado
Published 1905, A.W. Bowen & Co., Chicago, Ill.
---------------------------------------
R.N. Rogers
R.N. Rogers, mayor of Telluride, elected in 1903, brought to the discharge of his official duties a fund of worldly wisdom gathered in a wide experience among different classes of men engaged in various occupations, and has justified the confidence shown in his selection for the position by a careful and judicious management of the affairs of the town and active and intelligent efforts for its advancement and progress along lines of safe and healthy development. He has long been one of the leading men of the community, and has conducted enterprises of magnitude and great public convenience for the benefit of its people, running an extensive livery and feed barn, with complete equipment for the business, and also operating the stage lines to the Tomboy and Alta mines, and owning and developing the townsite of Dunton, where the hot springs are located. He is a pioneer of 1889 in the state, and was born and reared on Prince Edward Island, Canada, where his life began on February 28, 1863. He is the son of Griffith J. and Margaret (Neil) Rogers, who were also born and grew to maturity on that island. Mr. Rogers was educated in the schools of his native place, and reached the age of nineteen years without incident worthy of notice different from what occurs usually in the life of boys in his class and locality. In 1882 he came to Dakota and during the next four years was engaged in farming in that territory. At the end of that time he changed his base of operations to Wisconsin and his business to butchering and conducting a meat market, in which he was also occupied four years. In 1889 he came to this state and turned his attention to mining, which he followed until 1895, when he started the livery business which he is now conducting, and which he has expanded into one of considerable magnitude and conducts with vigor and enterprise, and with every consideration for the wants of his patrons. His outfit is one of the most complete in this part of the country, nothing being omitted either in the extent and variety of his rigs or the quality of his teams that is required of the most active and up-to-date establishment of the kind. In addition to this business he also owns and conducts the stage lines between the town and the Tomboy and Alta mines, with which he does a flourishing business, and finds room for his surplus capital and enterprise in developing the townsite of Dunton which he owns, and which he is pushing forward with as rapid progress as the circumstances allow. It is at this place, as has been stated, that the hot springs of southwestern Colorado are located, the curative powers of which have already attracted attention throughout a large extent of country, and which promise in time to rival in patronage and beneficial effects similar natural waters at the older resorts. In fraternal relations Mr. Rogers is connected with the Odd Fellows and the Elks. From the time of his arrival at Telluride he has been active and zealous in helping to promote the welfare of the community, serving for a number of years as a member of the city council, and since 1903 as mayor of the town, and rendering efficient and appreciated service to the people in both positions. He was married here on August 10, 1899, to Miss Clara J. Chapman, a native of this state. They have one daughter, Thelma, the only survivor of their family. No citizen of the county stands higher in the respect and good will of the people, and none is more entitled to their regard.
Rocky Says - Martha, By now you probably feel your email went to the dead letter file. Not true. This is a hobby for me and it takes awhile for me to respond. THANKS for visiting my site.
I know the town was named after Horatio Dunton as he lived there and owned several hot springs. I did some quick research in my library but I did not find anything that indicates the founders. If I were to continue my search I would contact the Colorado Historical Society or the Denver Public Library western History dept. Fortunately I am in Colorado so I can drive to both these places for my research. Based on your phone it looks like you are in CA. I do know that the Colorado Historical Society offers a "for Fee" service. About $10 an hour to research for you if you cannot find it on their web site. They have a pretty extensive collection of newspapers, city directories, etc. Make sure you check the old Rico newspapers as they seem to have carried many articles on Dunton.
Again THANKS for your patience and visiting my site.
A viewer writes - Friday August 10,2012 -- I just want to add a brief comment that adds color to your page on Dunton. My grandfather Leonidas Crapo was also involved in burying a cache of gold ore there that was never dug up. He valued the buried ore at $50,000 back in the 1890s. -- Richley Crapo
Rocky Says I must admit when I read your note I was a little suspicious. Then I did a few internet searches and was pleasantly surprised to find numerous articles on the Crapo family. Especially this one.
There were, at the time, two "Swedes" who worked in the ore-crushing building. Leonidas later learned that they had been, for some time, "highgrading" as well as working–picking out a nugget or a rock with a rich bit of gold still clinging to it and secreting these around the interior of the building. After dark, they would return to the building, gather their day's pickings, and bury it just outside one of the building's windows. Now, highgrading was not something mining companies tolerated, and it was treated as a hanging offense in those days. So after a while, when the Swedes had accumulated quite a large amount of stolen gold and gold ore in their cache next to the building, they had begun to worry about the possibility that they might get caught and strung up for the offense. It was then that they approached my Grandfather and asked him if they might hire the use of the mules. Not trusting anyone else to handle the mules, Leonidas refused to rent out their use unless he went along to handle them himself. The two Swedes said that they didn't want him along, but some days later they returned to Leonidas's shack and said that he could accompany them, but swore to kill him if he revealed what he saw.
That night after midnight, the Swedes came to get Leonidas and his mules. They first went to the milling building where they had already opened the hole in which they had buried their cache of gold ore. They loaded the ore onto several mules. Leonidas later estimated the hoard to contain about $50,000 in gold. At the price of about $285 to $300 per ounce this would represent about $700,000 in gold value. The three men took the mules a certain distance from the mine to a place where it could be concealed in a spot that would not be visible from the mine itself. There the two Swedes had already opened a hole that Leonidas later described as about six feet deep. Into this they deposited the bags of ore. They then filled in the hole and covered the spot with rocks to hide the fact that a hole had been dug there.
On the next weekend, a number of the miners, including the two Swedes, traveled to Dolores where they intended to spend the weekend gambling and drinking, but the trip did not go well for the Swedes. They got into a fight at a poker game and shot one of the other players dead. They were duly arrested and tried for murder. Both were found guilty and sentenced to a term in prison. At this point, Leonidas continued to hold his peace about the stolen gold for fear of being arrested for his involvement in transporting the gold. Highgrading was dealt with harshly and swiftly in mining communities as a hanging offense. One of the Swedes died while he was still in prison–of tuberculosis, according to the story. The other was eventually released, but was believed to have left the territory. Leonidas was confident that had he ever returned, he would have been noticed by those who lived in the area. Leonidas himself never tried to recover the gold, but he passed the story on to several of his children, one of whom was my father, from whom I learned the tale as a child.
A viewer writes Friday September 20th, 2013 -- Dunton Colorado Ghost Town - Rocky, while reading this article I had the exact same thought as you, that the name Crapo had to be wrong. Then instantly remembered where I had seen it before and thought I'd pass on the info to you and possibly the viewer who sent the note to you in the first place. I purchased the book "Where Eagles Winter, History and Legend of Disappointment Country" by Wilma Crisp Bankston from the Rico CO Museum. In it are pictures of some of the Crapo family, namely George, Carrie and Ez and some info on Ninas Parents, Owen and Susan Rhinehart. It's a very interesting read, especially if your relatives are included. I hope you will pass this on the the Grandaughter of Leonides. Here's a link to the book. I bought mine for $20.00 so don't think you need the expensive hardback book. http://www.amazon.com/Where-Eagles-Winter-History-Disappointment/dp/0962002526 Thanks, Karen Harrison
A viewer writes -- Friday, October 18, 2013 -- My husband and I and some friends were exploring Colorado in the 1970s. We came across a couple of people that mentioned Dunton. One young man told us that when we got back to Alabama that we must write to him. His address was Dan the Woodcutter, Dunton, Colorado. He assured us the mail would reach him. We decided to see what the attraction was in Dunton. It turned out to be a almost empty community dining hall, tiny bar, a few cabins, and a large bathhouse. They had rocked in a large pool from the warm springs and built a building over it. The warm water in the cold night air provided a mist for modesty, as people were stripping off their clothes and entering the pool for a bath/swim. There was an outlet for the flowing water that went outside the building and into another pool where people were star gazing. The idea of being in a public pool with naked strangers sounded extremely uncomfortable, but the warm water and the cold air collided to make sure no one could see anything, even if they wanted to. It was an extraordinary experience, one I'm glad I did not miss. -Sandy H
Rocky says - Right Sandy you didn't see anything, we believe you.
A viewer writes - Tuesday, August 05, 2014 -- My fathers family was from Telluride and he bought some land in Dunton. I remember going when I was 8 or 9 which would have been the mid 70's. At that time it was a biker hang out. I still have pictures of the bluegrass band that use to play in the main hall (only hall) My favorite dog Molly was buried in a meadow on my parents mining claim right outside of town. We planted hundreds of wildflower on the hillside.